Each year on October 12, Bicycle Network's National Ride2Work Day encourages Australians to incorporate cycling habits into their daily commute. The humble bicycle, considered by some as one of the world's greatest inventions, is an important vehicle for engaging both individuals and communities.
This past October, communities across Australia celebrated the benefits of riding to work. The national activation program leveraged the power of the Portal to teach tenants about the health, environmental and monetary benefits of cycling. Community Managers partnered with local retailers to help tenants look and feel their best at work.
Here are some of our favourite highlights from across our communities:
Collins Place (AMPC)
In Melbourne, Collins Place's Community Manager, Sing Yi, partnered with AMPC and our friends at Good Cycles to generously offer tenants free bike tune-ups in the building's end-of-trip (EOT) facilities. These sessions gave bicycles a little TLC including: a tyre pump, chain clean, wheel alignment check and gear and brake tune, while tenants toiled away upstairs.
AMPC is proud to partner with Good Cycles, an inspiring social enterprise that leverages the power of bicycles to change lives. Not only do their mechanics teach riders the essentials of bike maintenance, they also deliver cycle-based programs to train and employ disadvantaged groups in the community.
‍570 Bourke (Charter Hall)
570 Bourke and Charter Hall offered tenants two bicycle-themed activities to get the heart pumping and blood flowing. Didn't ride to work? No sweat, peddle your way to a free breakfast! In the lobby, occupants were treated to sweet, free smoothies with a twist! Introducing the Bike n' Blend. Tenants had the opportunity to make their own healthy, pedal-powered breakfast smoothie before heading to their desks. Blending fitness and fun, tenants could work up a sweat to pulverise their smoothie ingredients "at a cellular level" and peddle one smoothie at a time.
Tenants not only pedalled for free smoothies but also pedalled themselves into a co-op challenge! On October 11, Community Manager Alina Leung unveiled the 570 Bourke Strava Challenge. Whether you enjoy a gentle pedal through the streets or you're testing your endurance, the Strava Challenge catered to all fitness levels. Over a two week period, tenants had the opportunity to out-ride their colleagues to travel the highest total distance in their category to win a slew of incredible bicycle-themed prizes. Steve P from Kiandra has taken out the Performance Rider Bracket, cycling an incredible 582.1 kms in two weeks. Congratulations Steve!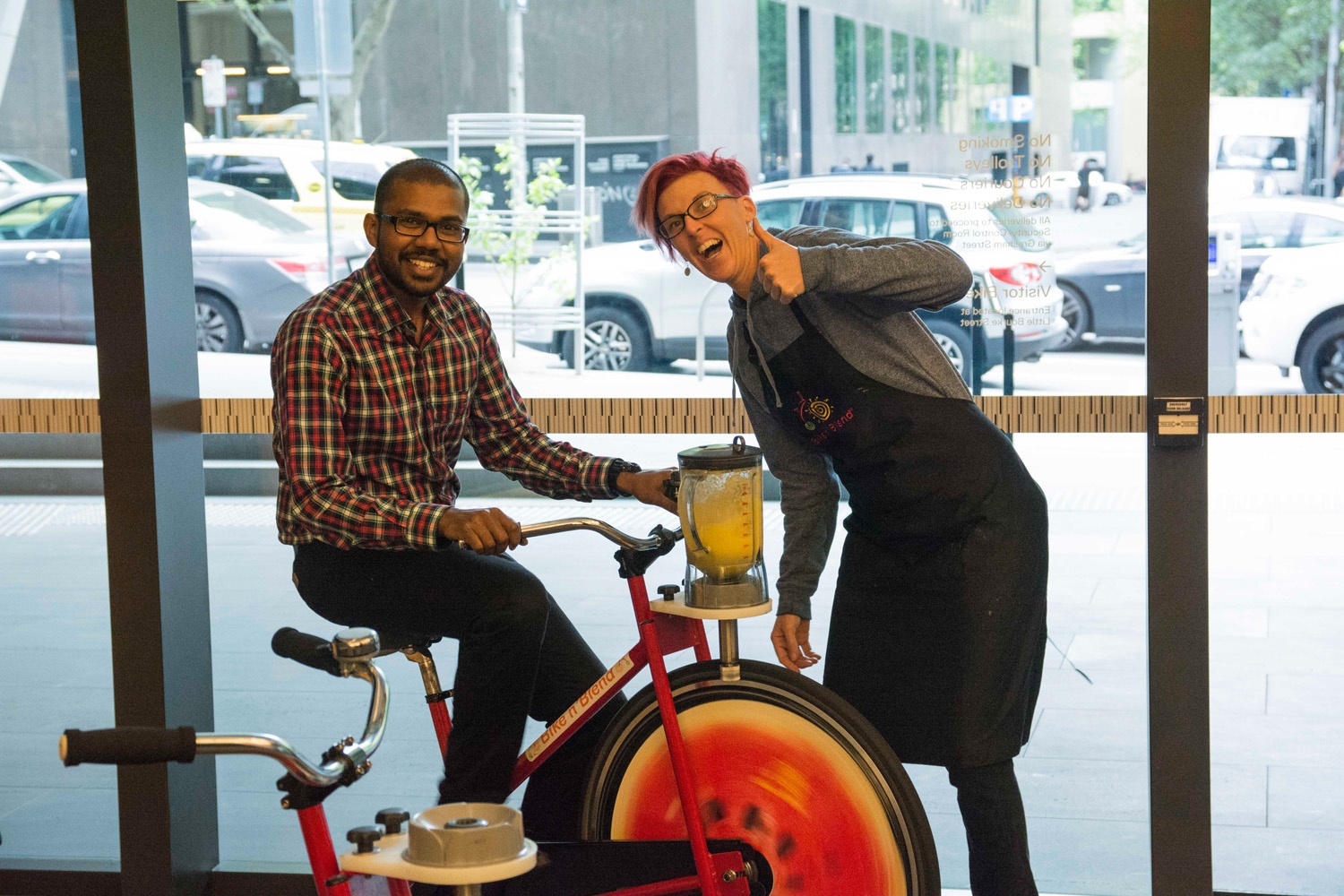 141 Walker (DEXUS)
141 Walker launched its end-of-trip (EOT) facilities to coincide with Ride2Work month. The facilities were opened by both the North Sydney Council and Bicycle Network at the launch on Monday 10 October, and tenants were treated to walking tours of the brand new facilities throughout the week. The exciting features now accessible to the 141 Walker community include:
84 ergonomic bike racks installed by market leader PFL Spaces.
Access to a bike servicing vending machine and tyre pump station in the facility.
State-of-the-art changing rooms featuring deluxe showers, ironing boards, hair dryers and straighteners, towel service and an airing cupboard.
Permanent storage lockers within the male and female changing rooms.
A fully secured storage perimeter, accessible only via building access card.
Convenient access to Australia Post 24/7 Parcel Lockers.
View the video of 141 Walker Pushbike Arc Storage Facilities
Darling Park (AMP, Brookfield, GPT)
Darling Park and building management JLL joined forces with family-owned and operated company Reid Cycles to supply two lucky tenants with quality bicycle goodness and jump on board the commuter revolution. Co-workers were encouraged to drop their business cards at the Darling Park Concierge Desks to go in the draw to win the custom Reid Granite endurance bike valued at $650, with the runner up taking home a $200 gift voucher. With hundreds of entries, Community Manager Kimberly Brookes had the honour of mixing the cards and drawing at random Darling Park's winners! One lucky winner, Ian W. walked away with the Reid Granite endurance bike, while Lily C. took home the Reid Cycles gift voucher!
309-321 Kent (DEXUS)
In Sydney, 309-312 Kent and the building managers collaborated with The Rolling Fix to provide free bicycle repair services for the building's cycling community. A unique service, The Rolling Fix is a completely mobile workshop that finds the customer wherever they are in Sydney's CBD and tends to their bicycle woes. Tapping into the commuter revolution, The Rolling Fix mechanics touted the benefits of riding, showed off their repair skills and kept office executives at their peaks for National Ride2Work week!
Bourke Place (AMPC)
Post-workout snacks are essential for fitness and nutrition. The best source of nutrition? Free snacks! At AMPC and Bourke Place's EOT facilities, tenants helped themselves to fresh fruit and smoothies from Top Juice - the perfect provider of delicious, healthy and convenient snacks packed full of daily essentials. As nutrition and fitness go hand-in-hand, Community Managers Sing Yi and Scott Wyatt liaised with Complete City Health to organise complementary Functional Assessments for Bourke Place's cyclists. Over time, imbalances in tenants' backs, hips and knees can cause inefficient pedaling, walking, running or lifting and impinge on fitness levels and overall health.
Angel Place (AMPC AMPC)
A workout is not complete until the body is nourished. Smoothies are amazing snacks packed with superfoods and essential nutrients, plus can offer protein to build muscles, carbs to restore glycogen and antioxidants to fight inflammation and cell damage. Angel Place Community Manager Bella Shamal, brought in big guns Top Juice to offer tenants some post-workout, liquid nourishment.
Rialto (Rialto Property Management)
A good workout session requires perfectly serviced equipment. Grollo Group and Rialto teamed up with Reid Cycles to offer free bike servicing. After tenants delivered their cycles to the friendly mechanics in the EOT facilities, the Concierge Team treated them to a feast from their favourite local food retailers in the Rialto lobby. Tenants enjoyed proteins, carbohydrates, fibre, sugars and fats - the building blocks of optimal health and fitness - as part of their post-workout nutrition.
Community Manager Kyle Birkett also profiled Meg C, one of Rialto's most avid cyclists on her rockabilly style and stunning forest green Schwinn bicycle. Complete with red gingham trim and wicker basket, Meg's bike is definitely one of the most enviable rides in the building, enticing even the most casual of riders to adopt frequent cycling habits!
‍80 Collins (QIC)
Self care is an essential aspect of fitness and health. In Melbourne, with the support of Colliers and owners QIC, 80 Collins partnered with Dr Mike from Complete City Health to focus on the internal health of runners and cyclists. Community Manager Caitlyn Turner organised Mental and Functional Health Assessments to prevent stress and strain placed on the body during a workout.
These Health Assessments gave tenants the opportunity to learn how to optimise their mobility, stability and strength through these functions:
• Seven essential steps to prevent injury while exercising
• The nervous system's role in performance and optimisation
• Muscle imbalances detection and correction
• Biomechanical analysis and its importance while exercising
56 Pitt / 175 Pitt (DEXUS)
$100 at 99bikes goes a long way, buying loads of accessories, clothing and post-workout supplements. 56 Pitt/175 Pitt and building managers DEXUS offered two lucky tenants the chance to win their very own 99bikes gift vouchers. With seven locations around Sydney, 99bikes' passion for extraordinary bike service saw this small, family-run enterprise grow Australia-wide and imbue their love for riding with their customers. Congratulations to 56 Pitt/175 Pitt winners Celeste and Campbell!
Conclusion
What a month! The Ride2Work campaign was such a success across our communities. Each event was aimed to excite tenants about self-care, proper nutrition and become aware of facilities available to them at their buildings to keep up (or create) the habit of riding to work.
Ride2work is one just example our ongoing mission in corporate responsibility and sustainability.